Gung Haggis Fat Choy dragon boat team at Lotus Sports Club's "Bill Alley Memorial dragon boat regatta" at Barnet Marine Park


The Gung Haggis Fat Choy dragon boat team – front row: Carolyn, Wendy, Rita, Gail and Natalie.
Standing: Anne-Marie, Julie, Jonas, Steven, Jim, Dave, Daming,
Jennifer, Joe, Sonja, Todd, Stephen, Constance, Deb, and Dan. – Photo courtesy of Lotus Sports Club
The Lotus Sports Club's Bill Alley Memorial Dragon Boat Regatta
is always a fun friendly race. Chilliwack and Ft. Langley teams
really support it well. I have attended many years with different
teams. Celebration in 98, 99, and 2000, Civil Serpents in 2001,
Spirit of Vancouver in 2004, spectator for 2005, and finally with Gung
Haggis team in 2006. The Lotus Sports Club
is where I first
learned to paddle a dragon boat in 1993 with the Hamazaki Wong
Headliners team. Grace Morisette was my first coach, and Lotus
people have all become friends over the years, such as Jim McArthur and
Barb Diggins. Friendly faces include Barb Alley, John Park, Carmella,
Jane, Clyde, Cindy, Dean and many many others. I can also say I
have known Joyce Yeoh and Elton
Pao, since they were junior paddlers.



Our team
really had a lot of fun. Our rookies were very excited to be in
their first races, our veterans were calm, cool, collected and shared
information. Dan brought smokies, Joe brought camp stove and
tent. Dave brought the large Gung Haggis tent. Food,
shelter and friends – what more can you ask for? Okay… we had a
team bbq afterwards at Joe's Burnaby home following the regatta.
There
is a prize raffle draw with proceeds going to the Bill Alley Memorial
scholarship. Bill Alley was a founding member of Lotus, and dedicated
to the Lotus Sports Club. Each year I help donate prizes to the raffle
and help promote it as an event during Asian Heritage Month.



Format is
round robin for first 3 races + Finals – so you get to race each of the other
teams + have your own category, for a total of FOUR races. That's
a lot in a day for brand new rookie paddlers!



For the race finals you are put into one of each category: Junior, Women's, Mixed or Seniors. Seeding is decided by cumulative race times. The Open category is decided by the cumulative race time that is the fastest!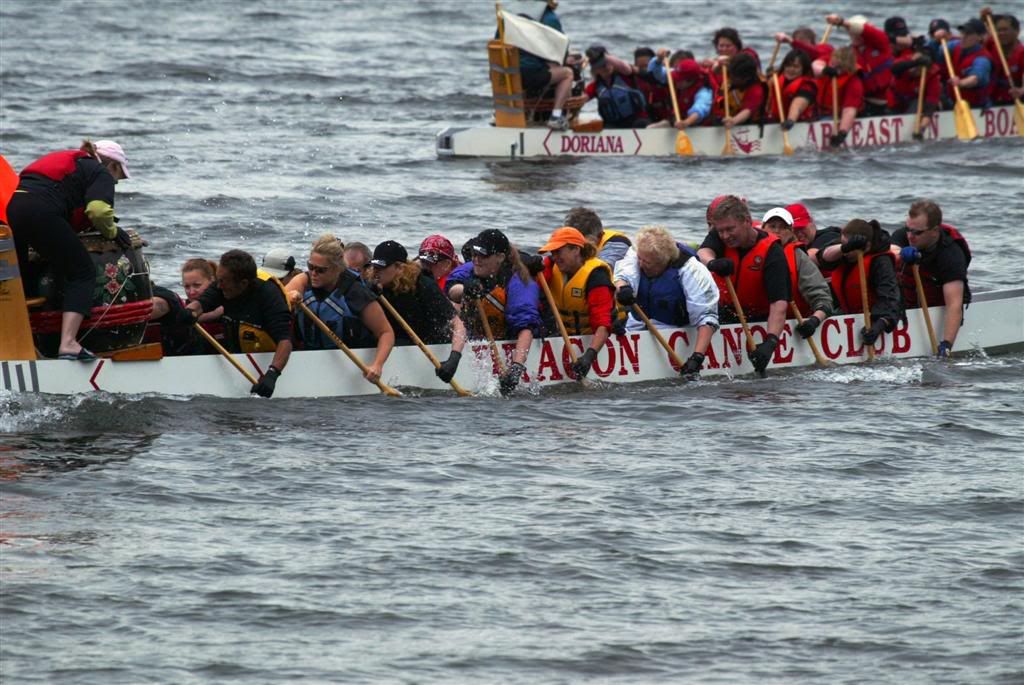 Our
friends "The Pirates" led by left stroke and captain Ian Paul (in
front), leading the Gung Haggis Fat Choy dragon boat team (in
back). Notice how deep the Pirates paddles are – getting good
water on their blades, while the Gung Haggis paddles are not as deep or
consistent. We will have to work on that aspect of our paddle
technique. – photo Ben Lee (see more photos at http://www.dragonboatwest.net



The
rotation of the races is pretty fast, so that would help discount for
other effects such as tide, wind, officiating, start position. But
this is meant to be a FUN regatta, so the start positions were not
overly picky, especially with wind causing drift at the start line.



Teams
swapped paddlers here and there. Gung Haggis loaned about 10
paddlers
at one point for Smoke on the Water's 3rd race – because the beginner
team from Chilliwack had paddlers that needed to leave or for other
reasons. Gung Haggis raced 18 paddlers for our first two races,
than
added 2 paddlers in race 3, then raced the final with 19
paddlers. It was great to have Nadia join us for our 3rd and 4th
race. She is a good friend of Wendy, and paddles on Concord
Pacific. She had met our team members Dan, Pam and Kristine, who
joined Concord for their San Francisco races last August.



Put
this event on your calendar for next year. FOUR races, Great Fun,
beautiful pebble beach setting, lots of trees for shade or rain
protection, Friendly hosts, and BBQ friendly! No medals – just awards
for the top finisher in each category + Top 3 finishers in Open
category, AND a team picture already framed to take home!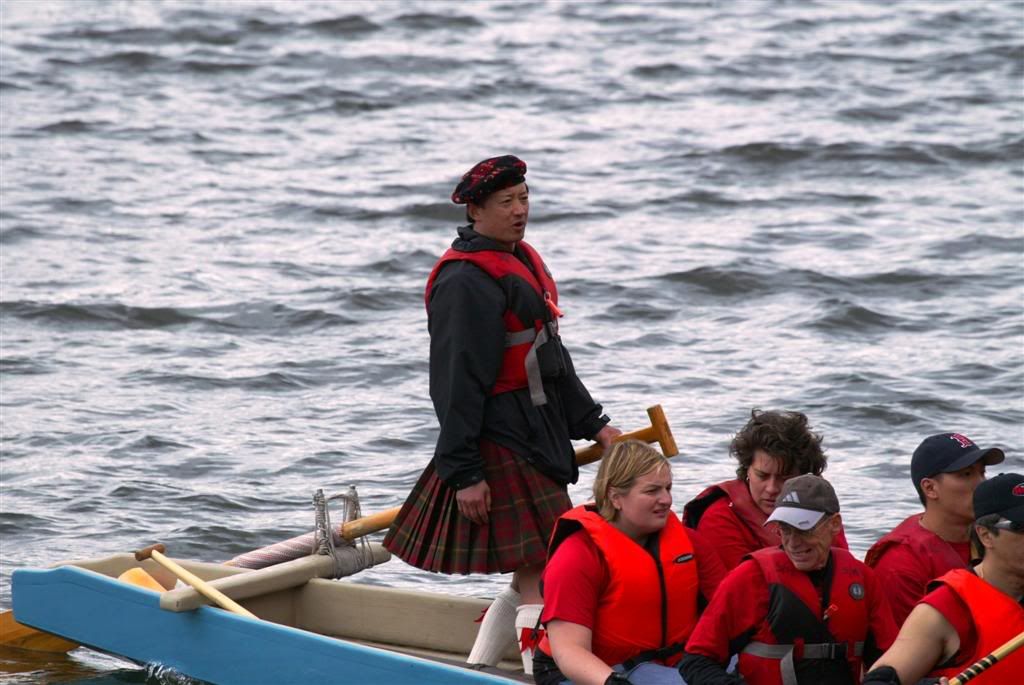 "Toddish
McWong" steering the Gung Haggis Fat Choy dragon boat team. I only
started wearing the kilt at dragon boat races last year. It is a Maple
Leaf Tartan made by Bear Kilts. Sonja and Jennifer (seat 10) in their first dragon boat regatta ever,
and 4th race of the day. Dave Samis and Jonas in seat 9, Dan Seto in
seat 8.
photo Ben Lee (see more photos at http://www.dragonboatwest.net/


Officially – there were 16 teams entered

Check out the Lotus Sports Club website

http://www.lotussports.com/page.cfm?PageID=11



Now what were the official results of the FINALS races? (this is from memory!)



Junior Category –

Lotus Juniors 1 or A (can't tell the names apart!)

Lotus Juniors A or 1



Women's Category

WOW – Women on Water (Ft. Langley)

Abreast in Barnet


Senior's Division –

FCRCC Grand Dragons

Dogwood Nothin' Dragons (Coquitlam)

The Eh Team

Dogwood Nothin' Dragons Challengers

FCRCC Grand Dragons (withdrew and did not race finals)



Mixed Adult –

Sudden Impact

SOAR – Spirit of a renegade (Ft. Langley)

Chilliwack Thunder Strokers (Chilliwack)

Pirates (Chilliwack)

Lotus Mixed

Gung Haggis Fat Choy

Smoke on the Water (Chiliwack) (withdrew and did not race finals)