The Tyee: Saving the House of Joy – new article by Derek Moscato
The Tyee is one of my favorite webzines. It is self-described as feisty and presents an alternative view to mainstream media. I met founder David Beers at a panel discussion at the Vancouver Public Library back in December. This is the first article on Kogawa House in The Tyee.

Saving the House of Joy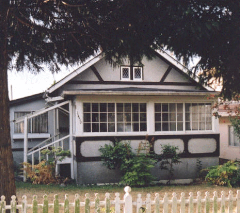 Activists rally to defend home of celebrated author Joy Kogawa.




Published: February 13, 2006



theTyee.ca
When the quest to save a house of historical significance collides
with a booming Vancouver real estate market, the end result sometimes
favors development, and even destruction, over preservation.
So far, that's been the case for the childhood home of author Joy Kogawa,
located in Vancouver's Marpole neighbourhood. Like otherwise
once-overlooked neighbourhoods in the Greater Vancouver area, Marpole
is now experiencing an influx of interest and dollars — to the dismay
of historians and literature enthusiasts across the country. That's
because the Kogawa house, which is located at 1450 West 64th Avenue, is
facing a day of reckoning with a bulldozer.
Kogawa is the most celebrated of Japanese-Canadian writers; her novel Obasan
has not only won a big following internationally, it has single
handedly educated otherwise unknowing Canadians about of Canada's
darkest chapters, the interment of Japanese-Canadians during World War
II (the internment experience in the novel is set in Slocan City).
Please read the whole story at http://thetyee.ca/Views/2006/02/13/HouseofJoy/