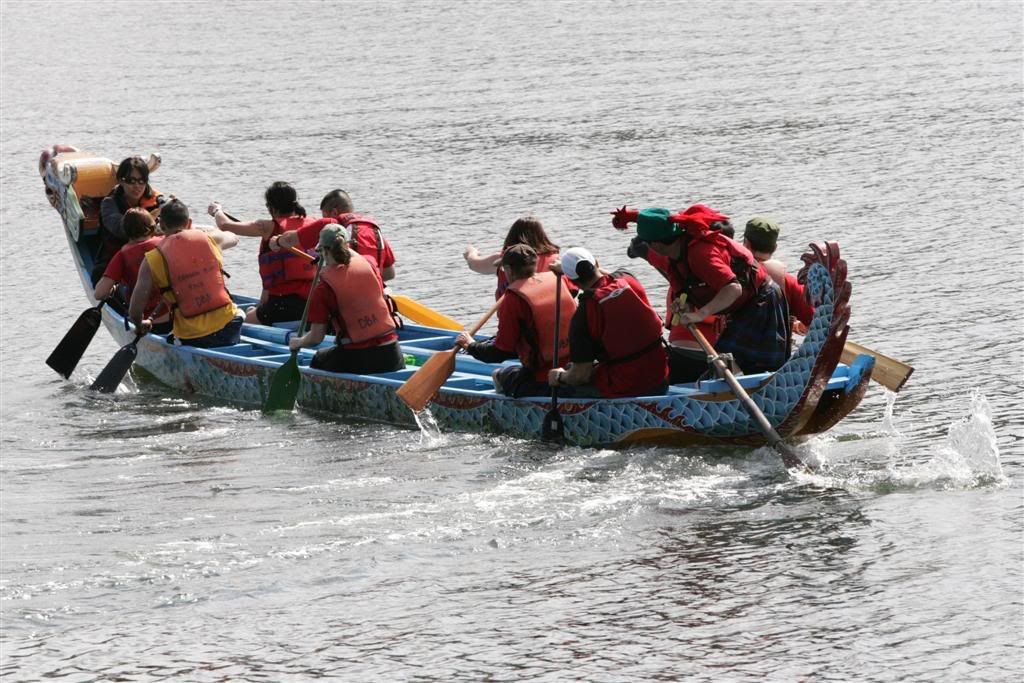 Gung Haggis team paddling in a barrel race (10 paddlers) on Saturday. Wendy is drummer and Todd is steering. Lead strokes are Colleen and Hillary, followed by Sher & Raphael, Brooke and Cindy, Dave & Tony, Jonas & Devon. photo courtesy of Ben Lee
It was our final dragon boat event of the season (sniff, sniff).
Special thanks to Captain Ernest
for leading our team for the Vancouver International Taiwanese Dragon
Boat Races. We had a good core of paddlers and some good developing
paddlers + some guest paddlers.
Future races are:
Sep 28th, Sunday, UBC Day of the Long Boat – 10 paddlers
Oct 11th, Saturday Ft. Langley Cranberry Canoe Regatta – 10 paddlers
TAIWANESE RACE REVIEW:
We performed well on Saturday and Sunday, posting 2nd, 3rd and 3rd in
our preliminary and semi-final races. We made it to the top 3 finals
out of 5 heats. We raced against some pretty experienced recreational
teams and paddlers in C Group, such as Elephant & Castle, Draco
Stealth (Calgary + Vancouver paddlers), Synergy Rice Rockets.
We had fun racing the fun races… It's always good to get extra time in the boats. On Saturday, we did a barrel race and had good compliments from other paddlers. Our time of 2.33.46 made us 7th of 12 teams. Fastest was FCRCC at 2.01.06 Slowest was The Eh Team 2.53.52
On Sunday we had a good Nogard race too… coming the closest ever to grabbing the flag on the way back. We weren't the fastest team to the flag, but we had one of the fastest turnarounds, and when we changed direction we were very close to the flag. Our team switched seats, started paddling. We kept the flag close to the boat, but we were too close to the flag. Paddles hit the flag, and when Jane reached to grab the flag, it dipped down out of her reach…. by inches… We turned everybody around in the boat, and went to go pick up our flag. Then we grabbed the last remaining flag, and handed it to the boat that forgot to get their flag.
With a time of 3.58.94 we were 11th out of 15 boats, probably the fastest of the teams who missed their flags. Fastest time was FCRCC at 2.58.27 Flying Butts were 4.18.84 and Race Face United was DNF.
Unfortunately for us at year's Taiwanese Dragon Boat Races, we didn't have much paddler depth. Usually we always have at least 2 extra paddlers. But Labour Day weekend holidays and work schedules took their toll. We rotated 2
Saturday only paddlers for 2 Sunday only paddlers. This race, we almost always
raced with 18 paddlers – no spares. And once on Sunday morning – we
were waiting for a missing paddler because we had no spares.
With so many new and smaller paddlers on our team, we were only 10
seconds slower than Scaly Justice Bytes' 3rd in B Division, 7 seconds
slower than Eh Team's 3rd place in our final, 3 1/2 seconds than
Naluwan Lightning Silver's 3rd place in the D final. Resting
tired paddlers and having more experienced veteran paddlers for depth
could easily have made up 5 seconds or so that is needed to catch a medal.
But that's racing… We can't control the other teams, but we can control our own abilities on the boat. We had fun, we felt good, and we can be proud of our accomplishments this weekend.
Final rankings and times are posted on www.dragonboatwest.net
You can see our final race here (we are at the end at the 1:15 mark):

see other races: